Empowering Your Rack  with Unmatched Flexibility and Safety.
Explore the future of power distribution and safety with the nVent Schroff Rack Safety Plus PDU – a revolutionary solution designed to elevate your rack systems to unprecedented levels of efficiency, safety, and adaptability.
Unleash the Power of Adaptability:
Experience the freedom to tailor your rack infrastructure exactly to your needs. The nVent Schroff Rack Safety Plus PDU is built on a modular platform, seamlessly integrating into your 19" standard rack size. But that's just the beginning – with over 300,000 possible combinations, you'll have the tools to craft a solution that perfectly aligns with your unique requirements. Whether it's server cabinets, data center cooling solutions, power supplies, or sub-racks and cases, the possibilities are endless.
Modular Power Distribution Unit with Emergency Stop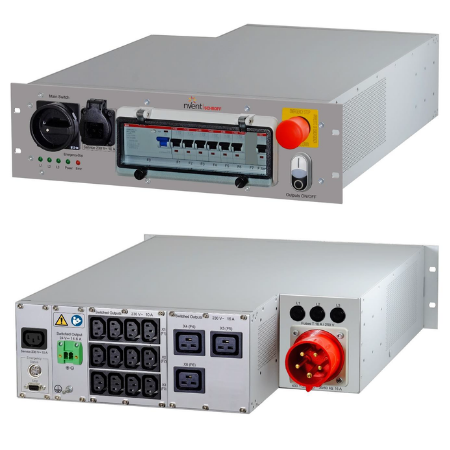 nVent Schroff Rack Safety Plus PDU – Front & Back
FLEXIBLE
Modular concept with 300K different modification options.

ƒ

Broad experience through customized projects.

Include all necessary functions in one system.
CERTIFIED
CE certified

Thermal management test and EMC test.

The safety relay meets the requirements of EN 60947-5-1 and EN 60204-1.
READY-TO-USE
Online configurator to modify unit within 5 minute.

Any modification based on the standard platform delivered within 3 weeks.

Certified and tested for immediate integration in customer applications.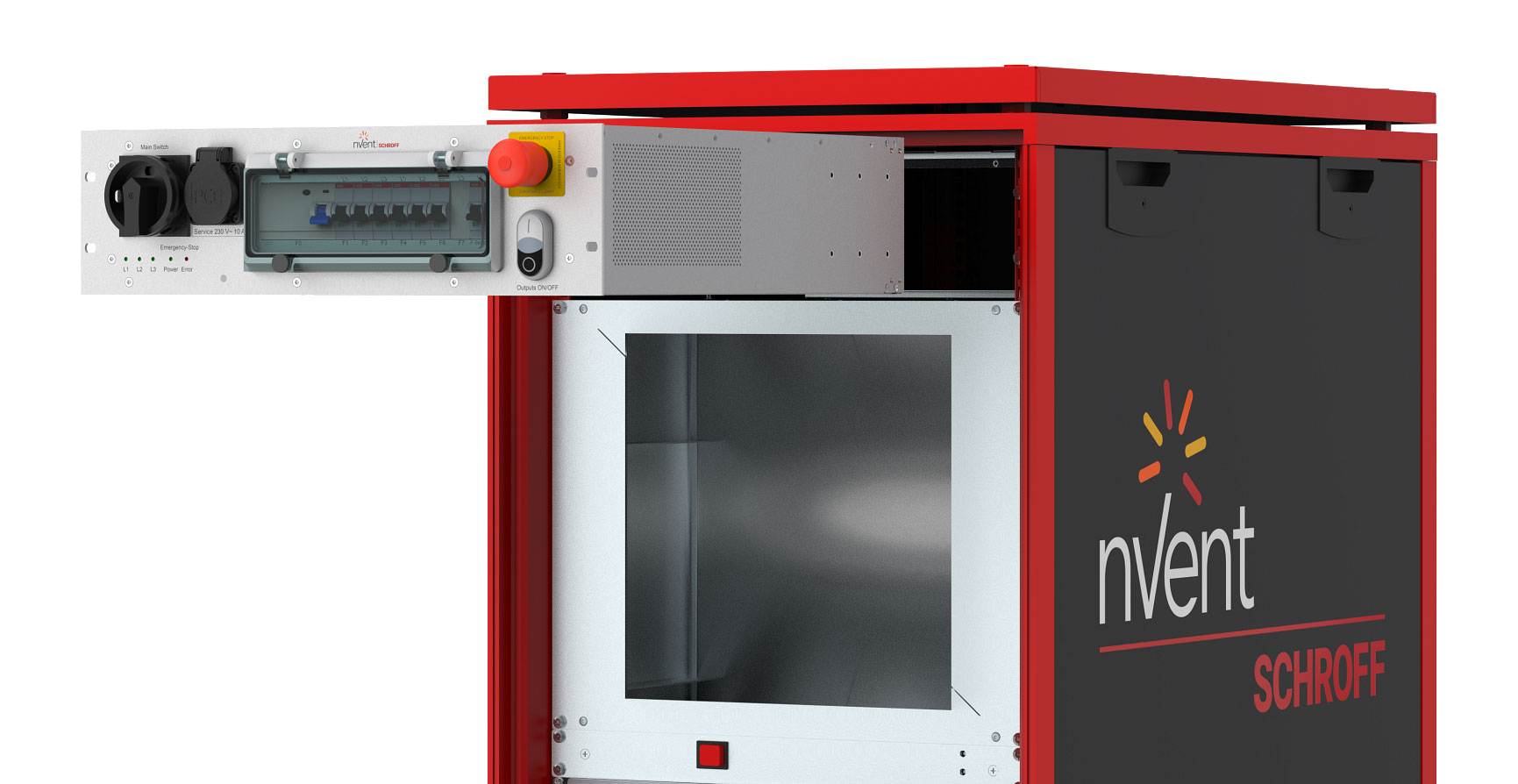 nVent Schroff Rack Safety Plus PDU in 19″ standard rack.
Uncompromised Safety:
When it comes to safety, there's no room for compromise. That's why the nVent Schroff Rack Safety Plus PDU comes equipped with an Emergency Shut-off switch, empowering you to take control even in the most critical situations.  You can breathe easy knowing that safety certifications, functional tests, and thermal management tests are all included. Elevate your peace of mind, elevate your safety standards.
Elevate Efficiency, Reduce Costs:
Time is money, and we value both. The nVent Schroff Rack Safety Plus PDU isn't just about cutting-edge technology; it's about saving you valuable engineering time and resources. Our intuitive online configurator streamlines the customization process, allowing you to swiftly create a solution that perfectly suits your needs. With four standard units readily available, you'll experience lower engineering burdens, reduced costs, and accelerated project timelines.
Who Benefits Most from Rack Safety Plus?
The nVent Schroff Rack Safety Plus PDU finds its true potential in industries where safety, precision, and adaptability are paramount
MRI Systems Manufacturing:
Elevate the safety and efficiency of your diagnostic equipment with cutting-edge power distribution and safety features.
MRI Instrument Manufacturing:
Push the boundaries of innovation with a modular solution that complements your advanced instrumentation.
Process Instrument Manufacturing:
Streamline your processes and enhance safety in your instrument manufacturing.
Diagnostic Systems Engineers:
Experience peace of mind as you integrate advanced safety functions into your critical diagnostic systems.
Lab Research Facilities:
From powering sensitive equipment to ensuring emergency shut-offs, our solution does it all.
At Selmark, we're not just selling products – we're providing critical solutions that empower your success. Elevate your rack infrastructure with nVent Schroff Rack Safety Plus PDU and experience the synergy of flexibility, safety, and efficiency.
Ready to elevate your rack infrastructure?  We're here to help.
WHY NVENT SCHROFF?
nVent Schroff is a global manufacturer of electronic packaging solutions. Products include cabinets, cases, sub racks, systems, and thermal management components for multiple markets including defense, telecommunications, medical, test and measurement, rail, and industrial.
Learn more